Would you like to travel the world on your motorcycle? Well, you can easily do so without breaking the bank. Just follow the guide here and you will be on your way there!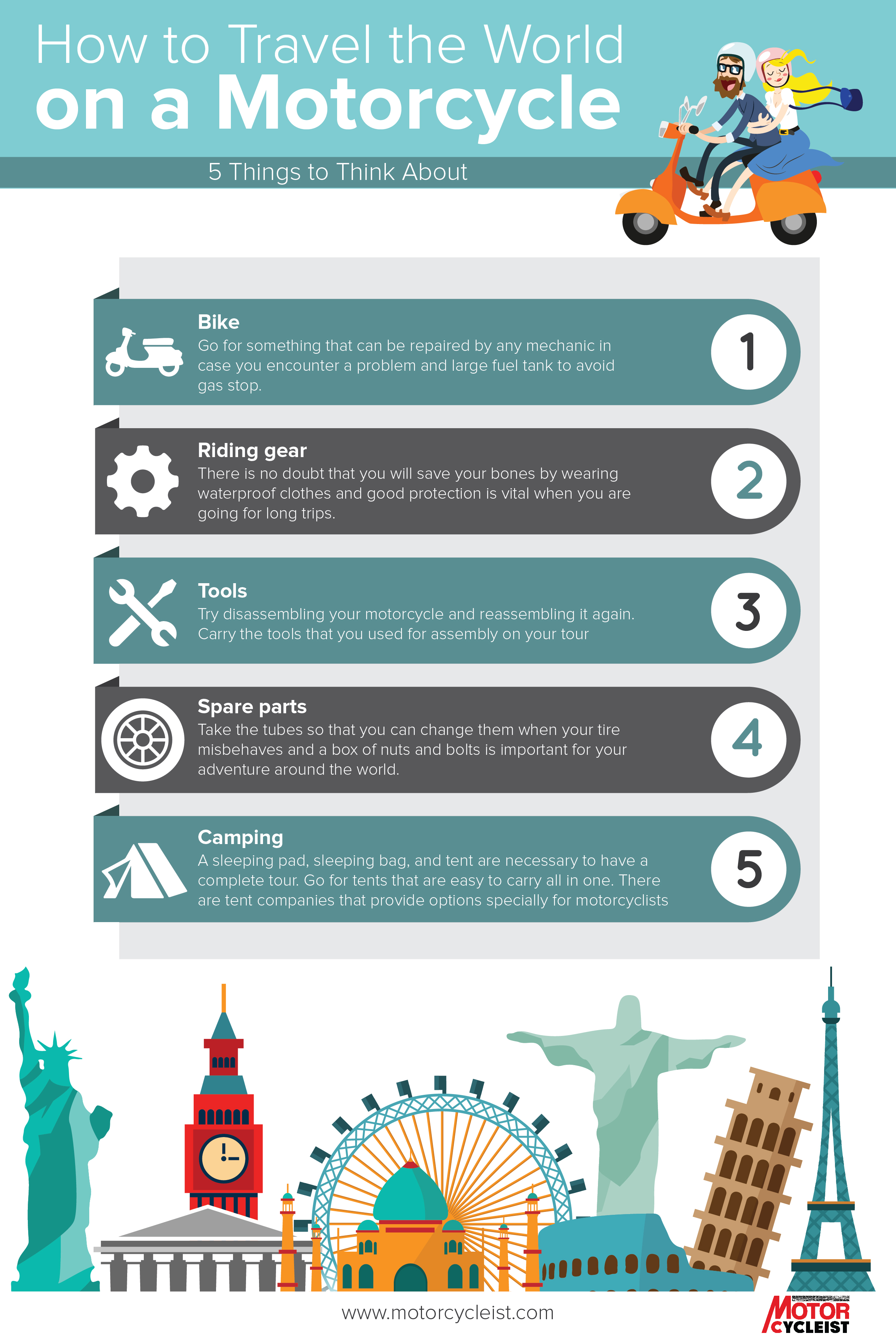 Traveling around the world on your ride can be a fun adventure. Apart from your motorcycle, there are also some other things that you should carry along with you. Here is a guide that you can use to check on what you require for your adventure.
Bike
Regardless of the motorcycle that you buy, there are additional accessories that you need for a safe trip. To be on the safe side, you need a bike that is off road oriented and affordable. Go for something that can be repaired by any mechanic in case you encounter a problem along the way. Make sure that the petrol power is one that can stand the miles you will cover. Go for a bike with larger fuel tanks; this will save you the time going to gas stations for a refill. Apart from the power, you require protection such as headlight guard, skid plate, folding mirrors and hand guards.
Riding gear
Gear is a necessity for any motorcyclist. However, most people forget to wear boots and pair of gloves and even a sturdy sole. All these are necessary for your protection. There is no doubt that you will save your bones by wearing a waterproof jacket. Protection is vital when you are going for such long trips.
Tools
Do not leave the house without the tools; you are going for a tour around the world, and anything can happen. Try disassembling your motorcycle and reassembling it again. Carry the tools that you used for assembly on your tour. Make sure you replace any tools that are worn out. Grips and wrenches, tire irons, valve stem, are not heavy and can save you a lot on your trip.
Spare parts
Spares should be on the list of things that you need to carry. Take the tubes so that you can change them when your tire misbehaves. A box of nuts and bolts is important for your adventure around the world.
Camping
Going on a tour means spending nights away from home. Therefore, you require to camp wherever night falls. A sleeping pad, sleeping bag, and tent are necessary to have a complete tour. Go to tents that are easy to carry all in one. There are tent companies that provide options for motorcyclist around the world. Do your research to get a legit company.
Check that you have everything in place. Look for ways that you can save money, for instance; you can opt to cook for yourself instead of buying foods from restaurants. By doing so, you will enjoy cheap travel around the world. Go ahead and pack all your belongings and get ready for an exciting adventure. There is no doubt that you tour is set to be one of a kind.
Credits: Indefinitelywild Gizmodo