This identical but distinctive breed from Triumph will be unveiled for the upcoming year release date with the 2016 Triumph Thruxton and Thruxton R series. From the historical year of bike manufacturing, there is no automaker that is willing to invent a special concept like this. Both of the mentioned series will be in a sports lineup that will have displacement around 1200cc; that is a high-power version that delivers 83 lb-ft for the torque at 4,950 RM. Along with that engine capacity, this vehicle features electronics that will support its performance with Traction Control, ABS, as well as the three riding modes. Not to be confused with the mentioned engine details for the standard series, nor the 'R' variant. More on that series, there is a 6-speed transmission setting with the addition of high-compression pistons, a light crank, and the unique air box.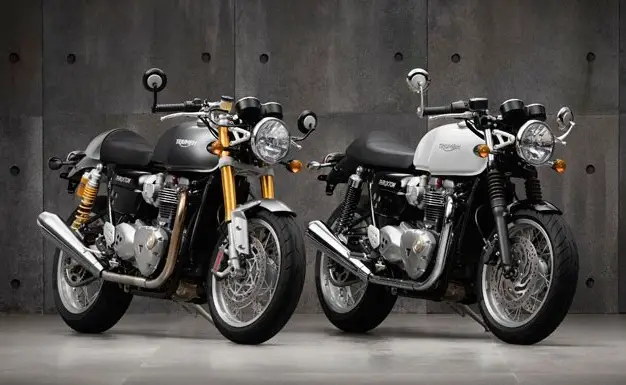 Speaking of twins, another category is the 2016 Triumph Street Twin, and this breed will join the already mentioned double series bike on the upcoming release date. Despite the fact that the production of this automaker brand seems very tight – the result of every bike that they have is still in the high-quality category. One thing that motorcycle fans should be thankful for is that this additional series from Triumph will be reasonably priced, and the displacement will be under the two Thruxton editions. The toys and supporting features that this bike has, include a USB plug for device charging, a LCD Screen for easy monitoring, and many more. Meanwhile, the wheel section will have the 100/90 R18 for the front and 150/70 R17 for the rear, with the special edition Pirelli Phantom Sportscomp rubber.
The compact technical details for the street variant will be totally different with the 2016 Triumph Thruxton and Thruxton R edition. The 'R' variation, with its thrilling sport classic appeal, will have the best high specs standardization. The features and details, such as Showa Big Piston, Brembo Monobloc Calipers, and for the tire selection – there are Pirelli Diablo Rosso Corsa tires. The basic standard that this automaker sets is that all the units will have the latest tech called Ride-By-Wire.
[Photos: Motorcycle]