The new 2016 Honda CB500F series, with its specs and colors is a perfect example of the brand's creativity. LED lighting, and superb body construction are just a few small details that will amaze fans. With the brighter and glossier vibe of this new CB series– Honda climbs the ranks of automakers on the global scene. The components use the latest material, carbon fiber monochrome. As previously stated, LED lighting is the newest technology – which gives the bike a new edgy look that highlights it from all angles. From the side view, we notice that Honda has used the fine plastic molding less than in previous models.
Let's take a look at features as we get to know the 2016 Honda CB500X, as the upcoming production from Honda has distinctive specs. This "X" series will have the 471cc engine type with a liquid-cooled parallel twin engine. The valve train will use the DOHC along with 4-valves per cylinder. For the ignition system, new equipment is computer-controlled and digitally transistorized with an electronic advance. Honda has always considered the induction setting to be essential, and that is why Honda uses the PGM-FI with 34mm throttle bodies. There is no massive or excessive spec on the transmission setting where Honda's uses the 6-speed setting. Extra updates that just arrived are for the chassis, suspension, and the Braking system. Front suspension will use the 41mm fork with 5.5 inches travel, and the rear will use the 4.7 inches travel. The new standard for the front brake from Honda sets it by using the two-piston caliper. The rear brake will use the single caliper.
The fuel tank capacity will be at 4.4 gallons. The news regarding the suspension has not been released – yet, so we can't come to any conclusion at this time. Since the previous version of the 2016 Honda CB500F cost around $5,799 – let's hope the price for the upcoming 2016 model can stay close to that price.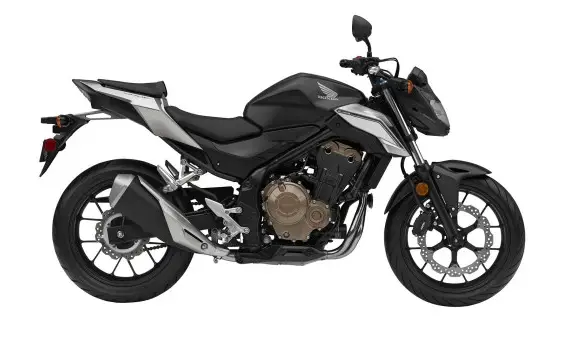 [Photos via Honda]