After two years, the 2016 Harley-Davidson Road Glide Ultra finally unveils its angular and aggressiveness in the coming months of 2016. The new body is ready to show off, and the two years production time has resulted in an exciting outcome. We will see some obvious changes in this bike, including the frame-mounted shark-nose fairing that was announced last year. The main reason why the fairing appears sharp looking is because its purpose is to get rid of the buffeting that can make create problems for riders. The engineer at the Harley facilities has come up with another great invention for this upcoming series. The invention is the new Triple Slips stream vent system, located in the lower section. Due to its placement, it improves the rider's experience because it can be in a closed position to direct the air away from the rider so it does not hit their chest.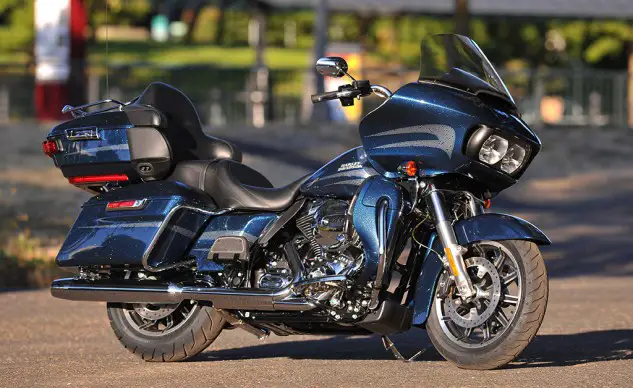 Cosmic Blue Pearl Color
So, as long as the main ventilation is in the open position, then buffeting near the helmet at high speeds will be no longer be a big issue for riders regardless of the weather condition. The safest or most appropriate distance should be 5 feet and 11 inches. The inside compartment of this bike has such cool toys, including a proportional audio system that comes with a touchscreen for easy control and GPS for clear positioning. The audio system comes with blue tooth technology, and the lighting will have a Dual Daymaker Reflector with LED headlamps. The greatest feature allows the rider to control all the features with just the touch of their finger on the screen.
As for the engine section of this aggressive 2016 Harley-Davidson Road Glide Ultra series – there is a reliable HO Twin Cam 103 series. The experience this engine gives the rider is vibration-free, a groundbreaking development for this bike maker. A surprising innovation has also happened on the cooling system. The Rider-Initiated Engine Idle Temperature Management Strategy will calm down the cylinder when it gets hot.